Meet the 23-year-old woman clearing mines from a war she doesn't remember
The International Campaign to Ban Landmines – which Ireland played a crucial part in – has been an extraordinary success.
THE K-5 BARRIERminefield in Cambodia is one of the largest minefields in theworld - writes thejournal.ie.
Estimated to contain up to 2 million mines, it runs along the entire 370kilometres of the Thai-Cambodian border; from the Laos to the east, to the Gulf ofThailand in the south.
It was on the K-5 that Yan Srey Yen was first exposed to the horrors oflandmines. The 18-year-old had just completed her training as a de-miner withthe HALO Trust, a charity supported by Irish Aid (the Irish government's overseasassistance programme) which removes debris left behind by war.
She was working with her team on a forested slopewhen suddenly there was a loud explosion.
"I was in shock," she recalls. "I couldn't move."
At first, her team members thought she had detonated the mine. But she wasfine.
It was 60-year-old Chhem Se, another de-miner working in an area about15 metres away. The blast was so strong it broke his helmet apart.
"There wasblood all over his face and he'd lost a hand," recalls Srey Yen. "I was shaking
when I came to help."
The medic patched Chhem Se up and he wastaken on a stretcher to the evacuation point. He began vomiting blood. Hewas then flown by helicopter to hospital where died several days later.
Chhem Se was an experienced de-miner who had been with HALO for15 years. He was due to retire within a matter of weeks. A popularmember of Srey Yen's team, his death was a sobering reminder of the deadlywork Srey Yen had embarked upon; that even the most experienced de-miners were vulnerable to the devastating impact of mines.
"Later, when Ilearned that he died," she says, "I cried."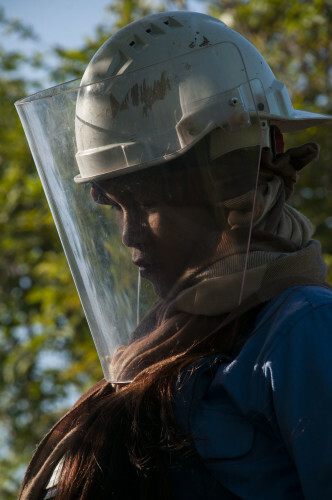 Source: Nic Dunlop
Twenty years ago this month, the International Campaign to Ban Landmineswas awarded the Nobel Peace prize. The same year, the Anti-Personnel MineBan Convention (also known as the Mine Ban Treaty or the Ottawa Treaty)was adopted. This represented a landmark legal framework urging states toeliminate landmines worldwide.
The campaign, which comprises 1,300organisations, has returned thousands of acres of land to impoverishedcommunities all over the world.
Out of 195 states, 163 have signed the Treaty.
Ireland helped draft the agreement and was among the first signatories.
In Cambodia, where the campaign began, more than 50% of minefieldshave now been cleared and accident rates have plummeted.
The campaignhas been an extraordinary success.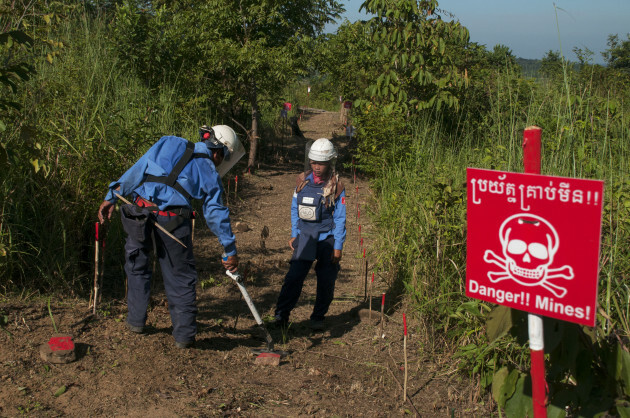 The Thai-Cambodian border, Oddar Meanchey province, Cambodia, October 2017. Source: Nic Dunlop
The history
Landmines were used by all sides in Cambodia's decades-long conflict.
In1978, after the Vietnamese army drove the Khmer Rouge from power, theypushed the guerrillas over the frontier into neighbouring Thailand. They thensealed the border with a network of defences that included the vast K-5barrier minefield.
The war came to an end in 1998, but landmines continue toreap a deadly harvest.
But it is not only landmines that pose a threat. Another legacy of theconflict are thousands, perhaps millions of unexploded bombs and shellswhich are unearthed daily.
These include cluster bombs, or 'bombies' whichare small balls of steel that are dropped from planes and send metalfragments over an area of several football fields.
 Srey Yen logs and maps the days progress back at the HALO camp near the Chomka Chek minefield Source: Nic Dunlop
Millions were dropped andthey have a high failure rate and do not always detonate when released.
After the Ottawa Treaty, the International Campaign to Ban Landminescontinued their work, leading to the Convention on Cluster Munitions, whichalso banned their use.
In 2008, Ireland chaired the negotiations on theConvention as part of its continuing leadership in this area.
The Conventionon Cluster Munitions, which was adopted in Dublin, has since been signed by108 countries.
As Cambodia's population increases and land becomes scarce, poor farmersare moving into previously uncultivated areas, particularly along the borderwith Thailand; much of it contaminated by the explosive remnants of war.
Recently, the Cambodian government started building a road that will runparallel to the frontier alongside the K-5 minefield. And whenever roads arebuilt, more people move into these areas, exposing them to the dangers oflandmines and bombs.
 Back at the HALO camp the deminers relax by watching Cambodian kick-boxing on a TV near the Chomka Chek minefield Source: Nic Dunlop
More mines than people
In 2006, the HALO Trust began to clear the K-5.
A UK-basedhumanitarian clearance organisation HALO has been operational in Cambodia since 1991 when the landmine problem was at its worst.
At thetime, some estimates put the number of landmines at 10 million; more than
one for every man, woman and child.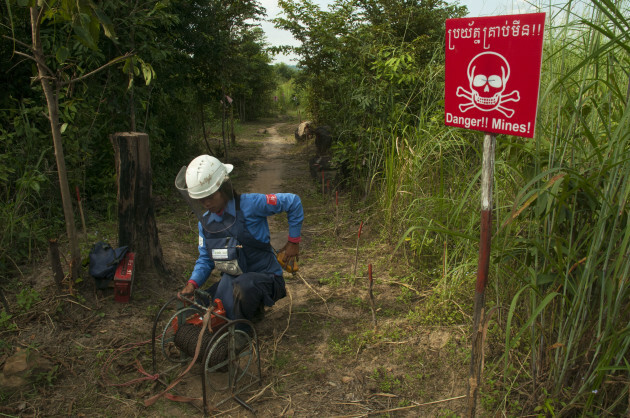 Srey Yen prepares to destroy A GYATA anti-personnel landmine from Hungary in the Chomka Chek minefield Source: Nic Dunlop
Irish Aid has supported HALO's work inCambodia since 1997; part of a global commitment to provide humanitarianassistance to eradicate poverty and ease the plight of civilians caught up inconflict.
And without mine clearance, there can be no meaningfuldevelopment. Today, as direct result of that support, 53,000 families can nowfarm free from the fear of serious injury or death.
HALO employs over 1,000 people in Cambodia.
Srey Yen helps Sophal into her protective vest before going into the minefield. Source: Nic Dunlop
They recruit andtrain female and male de-miners from mine-affected areas, supporting someof the poorest people in Cambodia. And by recruiting and training locals towork in HALO teams, it gives staff a greater sense of purpose, at timesclearing their own land.
Srey Yen's village, Ou Pok, is less than three kilometres from the K-5minefield. She joined The HALO Trust in 2012 when teams came to hervillage to recruit de-miners.
Like many of her team members, she is from apoor farming family; before joining HALO she dropped out of school to supporther parents by selling fish in a market on the Thai side.
But when she joinedHALO her father was not pleased.
It wasn't until she returned to their villagewith her team that he understood.
"He was really proud when I went to clearmines in our village," she says.
Everyone knows me and they talked abouthow I helped them and that made my father even prouder.
Srey Yen was a toddler when the war with the Khmer Rouge came toan end. The mines closest to her house were Chinese Type-69's. Thesebounding mines leap into the air when triggered, exploding at chest height,sending small steel balls at ballistic speed in all directions.
A total 1,570 mineswere found in the area.
 Srey Yen assists a member of her team in the Chomka Chek minefield Source: Nic Dunlop
"I only knew the extent of the problem when we beganclearing them,' says Srey Yen. "I became scared when I realised just howclose they were."
The concrete results of Srey Yen's team is not hard to find.
One of her neighbours, Sreng Oun, had a third of his land polluted by thesehidden killers. Since the mines have been cleared, life has improved andpeople are no longer fearful.
Before we had about five accidents in thevillage. After HALO cleared the area, I haven't heard of a single one.
 54-year-old Seum Kon beside his cabbage field Source: Nic Dunlop
The economic benefit
Mine clearance has also made a significant difference economically.
Not far away, in Trapeang Tav village, Ouk Ra's land was contaminated bymore than 20 mines.
Before the mines were removed, the family earnedapproximately $1,000 a year from the land that was mine free.
"I had nowhereelse to go," she says.
Now the mines have been cleared her income hasdoubled.
"If HALO hadn't come," she says, "it would be really difficult; I'd havenothing. And no money to buy rice."
 Source: Nic Dunlop
Today Srey Yen is working on a stretch of the K-5 that is a stone's throw fromher village called Chomka Chek. The money from Irish Aid goes to operationalcosts like food, fuel, equipment and salaries.
The teams are in the minefield just after 7am and work until middaybefore going back out until 3pm.
They work in heavy protective clothing withhelmets and visors in temperatures that often exceed 30 degrees Celsius.
 Morning parade/head count Source: Nic Dunlop
The work is slowand methodical and discipline is rigidly enforced by the 23-year-old.
Shespends her days watching over her team ensuring they work safely andeffectively.
A simple mistake can result in serious injury or, as in the case withChhem Se, death.
As a field officer with HALO, Srey Yen oversees nine de-miners.
Despite her youth, she is clearly driven and leads by example. "When I seepeople make mistakes, I tell them straight away. If they didn't change theirbehaviour, I'd report them," she says.
Then they'd get warned because theydidn't listen to me. People in my team say I'm serious and strict duringworking hours. But when I explain clearly to people, they understand. If theydon't listen and don't work hard together it's difficult for me to manage. It can save lives.
In the rare occurrence where an accident occurs, all work is stopped.
Srey Yen clears up at the end of the day after destroying a GYATA anti-personnel landmine Source: Nic Dunlop
After the wounded are evacuated, a detailed and rigorous investigation iscarried out by HALO staff to ascertain exactly what happened and why.
Following strict operating procedures in the minefield is taken extremelyseriously and finding the cause is paramount to prevent further accidents.
Injuries still happen
Members of Srey Yen's team are only too aware of the need to followstrict procedures and the importance of good leadership. And they treat SreyYen with a respect usually given to someone much older. It's a testament toher leadership capabilities.
"She's really strong," says one HALO member.
It'sgood because people will act, they don't ignore her; they listen.
Despite the great progress that has been made in Cambodia, there are stillreports of mine incidents. And the increasing mechanisation of farming in bringsadded hazards. Small tractors are now a common sight, often carrying heavyloads and people to and from fields.
This increases the risks of death andinjury from anti-tank mines.
When 54-year-old Seum Kon moved to Romdoul Choeng Phnomvillage, beneath the Dangrek range, everyone was afraid of mines. Konremembers the day well. A tractor carrying eight people detonated an anti-tank mine, killing five people and injuring three, including two babies.
Kon arrived to find a scene of carnage.
"A body had been cut in two,people had lost legs and a dead baby was stuck on a tree. One body wastwisted and contorted in an unnatural way," he recalls.
"There was blood andentrails everywhere."
Immediately he called HALO and, together with the other villagers,helped the survivors to the main road. The HALO ambulance then evacuatedthem to hospital and Kon helped take the dead to their families.
What made itworse was the track had been used many times before and people believed itwas perfectly safe.
"People were terrified after that," says Kon.
But all that haschanged as the entire area was cleared.
Back in the K-5 at Chomka Chek, Srey Yen takes a break from the work.
"Inever thought, as a young girl, I could work as hard as a man," she says.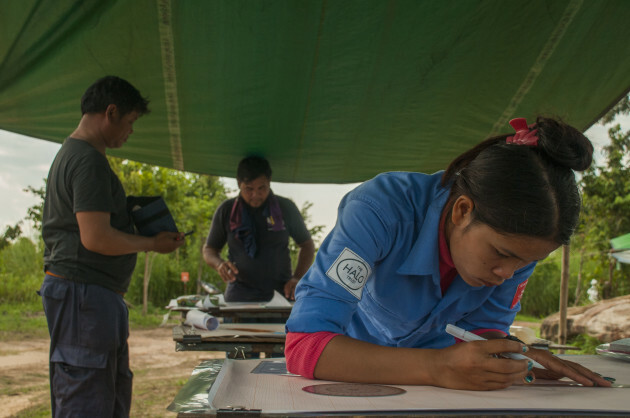 Srey Yen logs and maps the day's progress Source: Nic Dunlop
Shehad always lived with her parents. She's learnt to be independent, she says,as well the importance of working as a team.
"It's another family for me."
A solitary figure, Srey Yen is clearly motivated; the job is no longer justa way of helping her family. When her parents heard of the accidents theywanted her to stop work.
"I refused.I know just howimportant this work is."
When she tells people about her job now, she wants them tounderstand why clearing mines is important. In urban areas, few understandthe hazards the poor face in the countryside. And for much of the population,the war is little more than a memory.
For Srey Yen, she is clearing mines froma conflict she has no experience of. But that doesn't lessen her commitmentto the work.
"As long as HALO is in Cambodia,' she says, "I want to work withthem.I hope that after HALO, and when the mine clearance finishes, thateveryone is safe and can use the land."
But as long as there are mines, andpeople are poor, she says, they'll have no option but to take risks.
It is 20 years since Diana, Princess of Wales,helped raise awareness oflandmines when she visited HALO in Angola. Since then, 27 countries havebeen declared mine-free, 51 million stockpiled landmines have beendestroyed and the global trade in mines has ended.
Yet more than 60 millionpeople still live with the daily fear of landmines and unexploded bombs.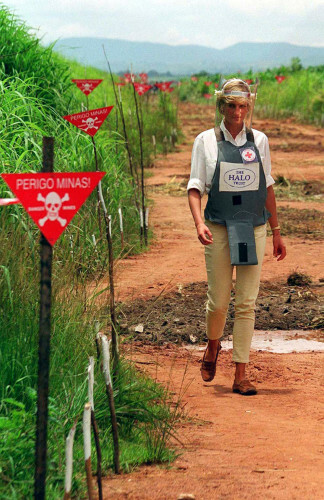 15 January 1997: Diana, Princess of Wales touring a minefield in Angola. Source: John Stillwell
Signatories of the Treaty have pledged to clear the world of mines by2025. Most agree this deadline is aspirational and unlikely to be achievableunless significant funding is forthcoming. Irish Aid has just signed a four-yearcontract to continue funding HALO.
"I know that we're trying to finish for 2025," says Srey Yen. "But it willtake longer because no one really knows how many mines there are. I want tosee that people are safe. If I have no job in the future," she says with a smile,"I'd be happy, because that means everyone will be safe."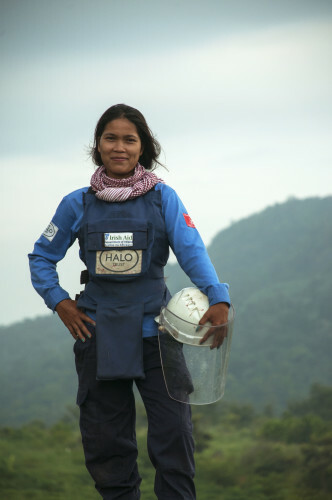 Srey Yen in Chomka Chek minefield in October 2017 Source: Nic Dunlop
Nic Dunlopis a Bangkok-based photographer, writer and occasional (Emmy-nominated) filmmaker.This report was completed with support from Irish Aid and the Embassy of Ireland to Vietnam.
Read more news of Dublin on our site.
If you notice an error, highlight the text you want and press Ctrl + Enter to report it to the editor